Family of Moonlight A community built around the Sailormoon fandom where you can meet and enjoy other fans since February 2010.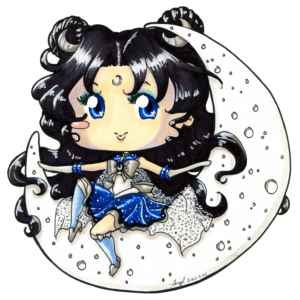 Meet the Moonlight Family
Current Moonlight Staff ~updated as of 04/05/23~
Margaret "Meg" Tyler (Lilly-chan)
My name is Margaret "Meg" Tyler, online people know me as Lilly-chan. I'm 40 ½ years old, a Sailor Moon fan since 1997. I've been running panels for over 18 years. I live in Ohio, but that doesn't stop me from traveling to conventions. Besides being involved with Sailor Moon & Family of Moonlight I am a Freelance Artist in Traditional & Digital Artist and a Photographer.
Angel Melzak
Angela Melzak, aka Angel. I am a Christian, artist and enjoy older anime and manga. Grateful that I get to share my love of creating with others over the many years. You can find me on Instagram, FB and DeviantArt under kuroitenshi in some form.
Michelle Tibbedeaux
My name is Michelle and I've been attending cons since 2011 and have been a cosplayer since 2012. I was introduced to the family of Moonlight in 2013 and Immediately wanted to join up with fellow fans of Sailor Moon, I grew up watching the show and as I got older I got more obsessed and learned more of the series. I help plan events, like our upcoming anniversary event on International sailor moon day, and panels, like this!
Joanna Mathews
Joanna Mathews, aka Neko Athena, has been a Sailor Moon and anime fan for more that 20 years. A high school friend of Meg's, she has been involved in Family of Moonlight for many years as well. Her other interests include dinosaurs, horror, and tabletop and board gaming. She is running the BESM 4th Ed. Shadow of the Moon Module for Family of Moonlight's gaming night.
Sebastian Creager
Sebastian Creager I've been cosplaying for over a decade and a half! Been apart of the convention scene for over a decade! My current anime obsessions are Sailor Moon, Durarara, and Yuuri On Ice! In my free time I'm a graphic designer, baker and writer! You can find me on Instagram @sebaskitty to keep up with me! I'm super excited to meet everyone!!
Franky Price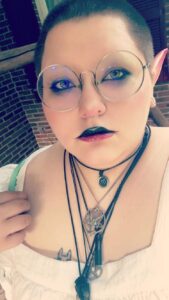 Franky Price Makeup artist and tabletop devotee. Been a con attendee for almost 10 years and a nerd since birth. Lover of alternative subcultures, horror, and cozy video games.
Beth Gerstorff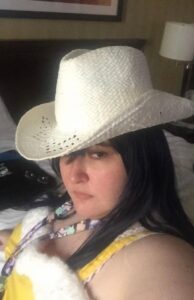 Crafter and cosplayer by nature. Lover of dolls and anime. Been going to conventions and cosplaying since 2009.
Jae Griffieth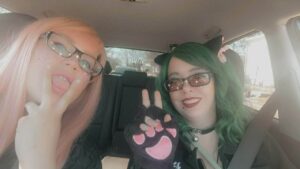 Jae Griffieth has been cosplaying and going to cons for about a decade.
We have more Moonlight Family
~Dan Bednarski of Sailor Moon Uncensored– Hosting of Family of Moonlight website & IT (behind the scenes)
~Tracy Romig (Topaz)– Co-helper, contributes/staff member for the East Coast area
~CNelson (Sailor Centauri)- Video Editor, Social Networking Manager, contributes/staff member for the West Coast area
~Nate York– contributes for our Michigan (MI) moonie info/events such as Youmacon & Shuto Con.
~Shawn & Matt Smoot– Co-helpers & Panelists in the Virginia Area
~Courtney King– Co-helper & Panelist in the Raleigh, NC area
~ Declan Henry– Co-helper & Panelist in Ohio
Sincere thanks to these past members of Family of Moonlight staff:
"Tomi" aka Tommy Watson (also known as "Kungpow" of Destiny Revival, a Sailor Moon fan game series)
"Sarah Forde ("Sakky-chan") of Adorkabows– https://www.adorkabows.com/
"Kirei Hikari" of http://kireihikari.deviantart.com/
"Usagi Chiba" a cosplayer– http://chibausagi.deviantart.com/ and http://usagichiba.webs.com/
"Misty" of Myu Corner
SSFSeiyakou of deivanartART
"Elly" of Miss Dream
Lisa Terlato ("Senshi-chan" ) of Sailor Moon Meetup– Co-Helper
William Sebree (" takuto-kun/ddrninja")
Yosenex
If you have any questions for for Family of Moonlight feel free to reach out to us at moonraitostaffATgmailDOTcom, we can always be reach via Facebook, Twitter or deviantART as well.